Big Bang Digital 2021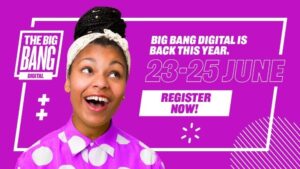 This year, the Big Bang Digital is expanding its horizons to look at how we can build a brighter and greener future using science, technology, engineering and maths (STEM) – a future that will be in the hands of the brilliant young people who are studying the subjects right now.
Aimed at 11 to 14 year olds, the 3-day event will be packed full of inspiring and interactive sessions, opening young people's eyes to future developments they could be part of.
Big Bang Digital could be the spark for young people to see how the very subjects they're studying can lead to some of the most interesting, exciting and fulfilling careers.
See the programme of events here
Looking at the environment, medicine, food production, energy, infrastructure, and loads more, the interactive sessions will be a mixture of live and pre-recorded presentations opening the eyes of students to what they could be doing as a job in the future. Exploring how these exciting careers will be changing the world for the better will be part and parcel of the sessions, as we hear from the people working in these areas right now.