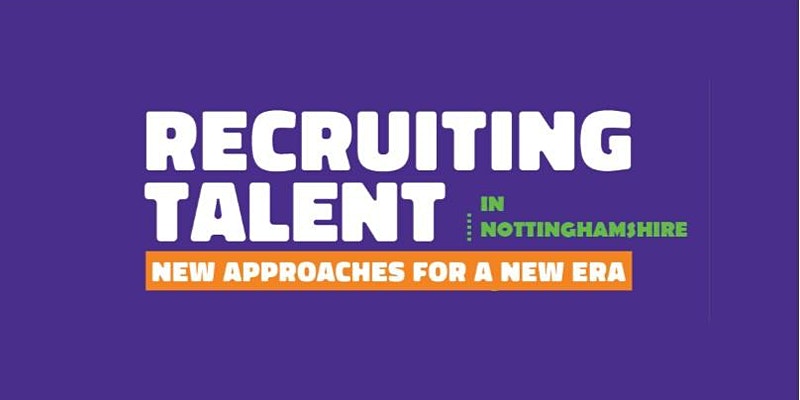 Recruiting Talent in Nottinghamshire virtual conference
Can we help your business to Recruit Local Talent?
Are you an employer looking to recruit in Nottinghamshire then why not attend this exciting virtual event taking place on 17 March 2021. Recruiting Talent in Nottinghamshire & Collab will bring you the most experienced and influential keynote speakers and workshop leads on a brand-new virtual platform!
Recruiting Talent in Nottinghamshire brings together experts who can support businesses to change the way they recruit and retain staff, accessing a wider pool of talent available locally and contributing to greater productivity.
DEADLINE TO BOOK YOUR PLACE: March 15th 2021
The event will:
Bring together local, regional and national businesses and experts and feature senior level keynote addresses from a range of partners including Nottinghamshire County Council; D2N2 Local Enterprise Partnership; Department for Work and Pensions; local, national & international employers; East Midlands Chamber and local education establishments.
Help employers to understand the current landscape around employment and skills in each Nottinghamshire district and an opportunity to discuss your requirements with representatives from district and unitary councils.
Help your business understand more about COVID-19 Economic Recovery Planning and find out more about the support available to your business, including incentives for employing local people and the business support available in your local area.
Offer a range of workshops and a full marketplace experience allowing you to meet representatives from organisations that are fully funded to help 'get people into work.' They can also help you to upskill current staff and attract local talent.
Showcase the benefits of inclusive recruitment, with case studies and input from employers who are reaping the benefits of increased productivity and growth
To attend this event, you must BOOK YOUR PLACE.