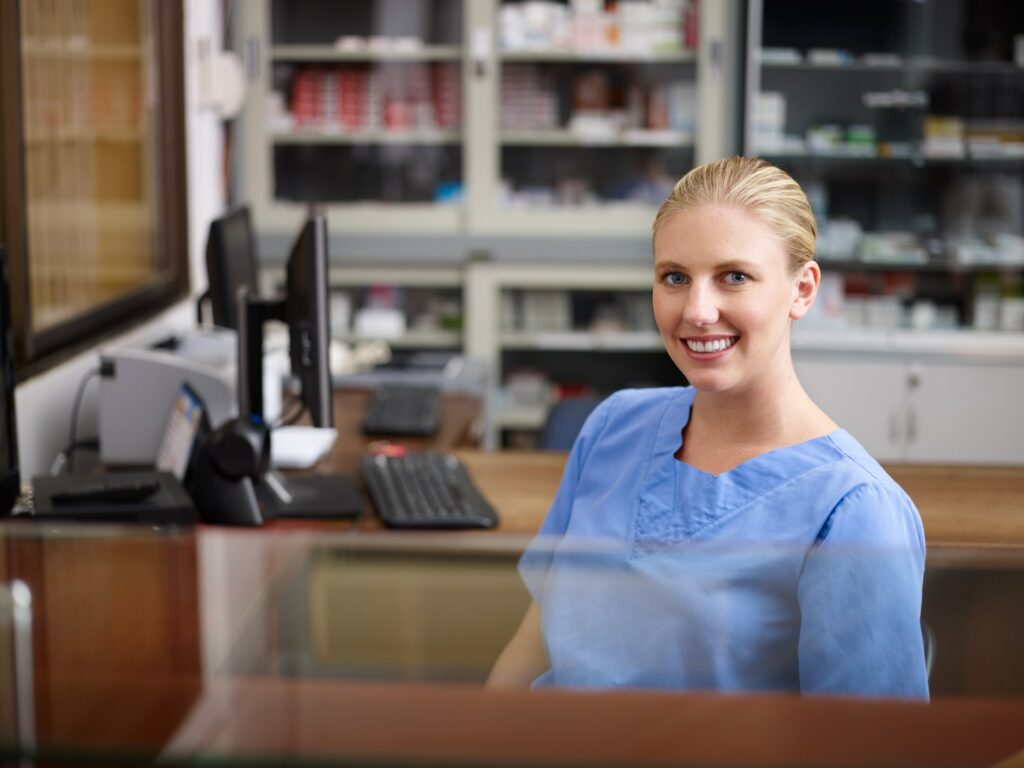 Joining reception five years ago, was an eye opener. I always thought receptionists made appointments and booked me in. But I soon learnt there was far more to being a "receptionist" than I had previously thought. I very quickly realised that, contrary to popular belief, they are not 'dragons', or the 'appointment prevention brigade', but caring people who are patients themselves, and understand patients' concerns and frustrations. They try their very best to offer appropriate appointments within the system.
On a typical day, up to 400 patients arrive to attend appointments. Some patients use the self-check-in system when arriving for a doctor's/nurse's appointment, but frequently patients will book further appointments or reschedule them, collect/query prescriptions, hand in/collect letters, ask questions and obtain information. This can sometimes lead to long queues at the reception desk. We try to make sure that nobody is kept waiting for long and it can be difficult when at the same time answering telephone calls. These have increased hugely on a daily basis in the last few years. We deal with many varied requests from patients, hospitals, pharmacies, medical organisations, care homes, insurance companies and other outside agencies. Incoming calls are our priority unless we are talking face to face with patients at the front desk or dealing with urgent requests from a doctor e.g. booking an emergency ambulance. We are aware that there is difficulty getting through to the surgery by telephone but we do answer calls as quickly as we can and never deliberately ignore calls.
We are responsible for processing specific GP requests and authorisations; contacting patients with test results / making the appropriate appointments and actions.
Additional tasks include detailed handovers to team members – this can be anything not resolved or clarified from doctors/nurses; passing on messages to members of the Primary Health Care Team; rescheduling appointments; phoning patients with test results; chasing up test results; preparing blood test forms/faxing them to District Nurses; arranging patient transport; retrieving and replacing patients' medical records; putting together registration and maternity packs; restocking doctors' rooms with equipment/stationery; booking appointments for medicals and minor surgeries; organising and 'tagging' incoming new patient notes; organising information leaflets in the waiting area and carrying out general housekeeping tasks.
Every day is different for a busy receptionist. It is challenging, sometimes overwhelming but mostly fulfilling. Good teamwork is vital to provide an efficient, positive frontline service for patients and to provide assistance and support for the doctors, nurses, and all members of the Primary Health Care Team.